Coxreels idler sprockets
Coxreels introduced the all new idler sprockets for the 1600 Series motorized hose reels.
---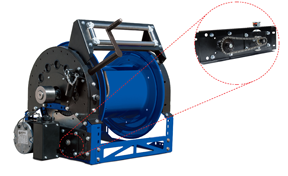 This new add-on benefits the user in reducing the rewind speed, increasing motor torque and fitting an optional 3-way brake.
These high quality, all steel, idler sprockets are chain sprocket assemblies with a corrosion protective coating that change the drive ratio of the motor-to-drum drive system. They are available in three ratios 1:2, 1:3, and 1:4 and available with or without an optional extended shaft allowing for the use of 3-way brakes or electromagnetic brakes.
Coxreels idler sprockets are mounted on a zinc plated steel axle and rotate on two self-lubricated bronze bearings. This add-on is generally used on electric motor drive systems but Coxreels' idler sprocket is also available for hydraulic and 4-Vane air motors with a 1:2 ratio idler sprocket. The idler sprocket is a great addition to the features found on the 1600 Series for professionals who require tailoring and building a reel solution that will suit the most demanding needs.