Posted January 25, 2023
Overland 950 Series electric powered hand truck
The Overland 950 Series Power Switch Electric Powered Hand Truck is the latest addition to Granite Industries' Switch series.
---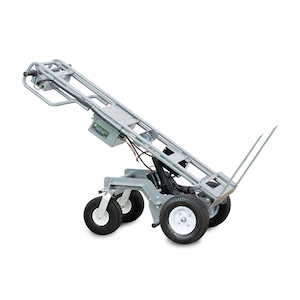 The Switch line of hand trucks is able to adapt in real time to the load it carries – if the load is small and dense, the hand truck can be lowered. And if the load is large, the hand truck can be raised. The 950 Series Switch is built to handle the widest range of loads up and down ramps and on other hard surfaces.
Made in the USA, they feature a powerful 950-watt motor along with a 20-amp hr lithium battery pack. Unique to this version of the Switch is the power recline feature that adjusts the heights of the handles by an electric cylinder from 25-inches high to 45.5 inches high. Estimated capacity is 750 lbs. on flat surfaces and 500 lbs. on inclines (up to 15 degrees). The Overland 950 Series comes standard with flat free turf tires.
Top Reasons to Buy an Overland:
Easy to use – Power it on, twist the throttle and go.
Safe to Operate – Numerous safety features and a four wheel design set us apart.
Made in the USA – Quality you can feel. Manufacturing and support is all out of Archbold, Ohio.
All electric power – Zero emissions, zero fumes, and virtually no noise.
Minimal Maintenance – No oil filters, air filters, or gas to add. Just remember to plug it in.
All Day Battery – Operate the cart throughout the day on a single charge.
Massive Capacity – Load the cart up with 750 lbs of whatever you want.
Fully Assembled