Posted November 21, 2022
DENIOS heat solutions for container products
Coverage heaters, heating jackets for drums and IBCs, as well as drum-heating blankets from DENIOS offer practical and efficient freeze protection, viscosity control, thermal mixing, optimum flow, and temperature maintenance of materials. These thermotechnology solutions keep products stored in all types and sizes of containers ready to use at all times.
---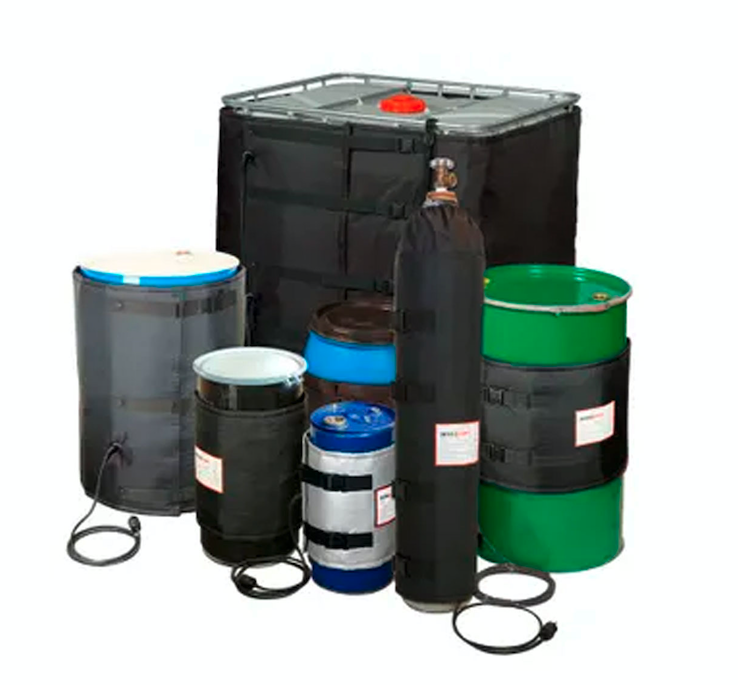 Coverage heaters include built-in insulation and a digital temperature controller to maintain optimal heat levels, thus providing an easy-to-use, all-in-one solution for drums, gas cylinders, IBC totes, and containers.
Heating jackets for drums and IBCs are available for container sizes from 7 to 725 gallons. They are manufactured of water-repellant and abrasion-resistant polyamide with a polyurethane coating and high-quality quilted glass wool insulation.
Drum heating blankets are also available in steel; both steel and silicone blankets are well suited for mobile usage. Heating elements are made from spiral wound resistance wire with an insulating layer of silicone to reduce heat losses and use less energy.
Precisely defined temperature control ranges from 32°F to 194°F allow safe heating of contents. In addition to heater blankets for pails, drums, cylinders, and IBCs (totes), DENIOS offers strip heaters, drum heater belts, heating coils, induction heaters, base heaters, and more to suit virtually every application and installation.
Easy-to-use heaters and blankets feature simple plug-and-play designs for "out of the box" usage. DENIOS offers heat solutions to suit a wide variety of environments, including hazardous and explosion-proof designs. Most operate from 120V to 240V single phase service and are ETL approved to UL and CSA standards. They are available from the Louisville, KY factory with industry-leading lead-times.