Pratt-Read hook and pick tools
Pratt-Read Tools offers a 100% Made In America four-piece precision Hook and Pick set for professional contractors and serious DIY'ers.
---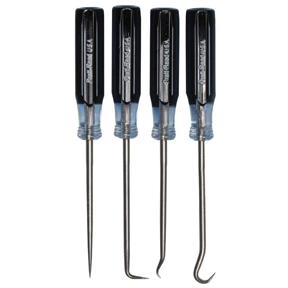 Sold under the Pratt-Read brand, the tools are some of the first introduced since the company was acquired by Ideal Industries in 2010.
Simple yet reliable, Pratt-Read hook and pick tools are used for separating wires, and for removing or retrieving small fuses, O-rings, gaskets, washers and other loose parts too small to pick up with fingers. They're also perfect for punching holes and marking metal or plastic surfaces for identification.
Designed for long-term value, the tools feature heat-treated alloy steel blades lacquered to resist damaging corrosion. Tips are manufactured to precise tolerances to ensure accuracy. The ergonomic 4-flute handles -- made of rugged, impact-resistant cellulose acetate -- feature a unique dimple on the tail end for fingertip control.
The set (part # 82061) includes a small scribe, 90 probe, complex probe, and 180 hook to accommodate a variety of professional or Do-it-Yourself jobs.