3M Protective Laser Tape
3M and Shale-Inland announced the launch of 3M Protective Laser Tape, a new family of Laser Protection Tapes for the metal fabrication market.
---
The new laser protection tapes provide temporary protection for a variety of finishes of stainless steel, carbon steel, and aluminum sheets during laser cutting and storage. This product is the first product platform for the metal fabrication market to flow from the commercialization agreement signed by 3M and Shale-Inland last December.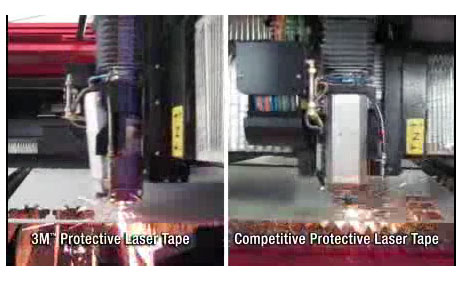 3M Protective Laser Tape is a white polyolefin film coated with a high performance adhesive system. Unlike traditional protective tapes, the unique combination of film and adhesive in 3M Protective Laser Tape helps prevent 'ballooning,' edge shredding and other problems associated with laser cutting. The product's adhesive technology provides reliable surface adhesion with excellent thermal stability. Its unique film construction offers extra protection during processing and allows easier removal than previously available tapes. Product lead times will also be significantly shorter because the tape will be manufactured in North America, unlike other laser tapes on the market. 3M Laser Tape also expresses commitment to the environment, as this new family of products produces no volatile organic compounds (VOCs) during the manufacturing process.
"Our primary mission is to use our skills in innovation to bring our world class customers new solutions to make them more effective and efficient," said Mike Roman, vice president and general manager of the Industrial Adhesives and Tapes Division at 3M. "Our 45 technology platforms and expertise in materials science, combined with Shale-Inland's metal fabrication expertise and insights into the needs of the metal fabrication customer, are transforming the industry."
"Our technology partnership with 3M will quickly bring disruptive products to the metal production and distribution marketplace," said Craig Bouchard, CEO and Chairman of Shale-Inland. "Our subsidiary, Main Steel, has been the leading distributor of laser tape in North America since the inception of the product. The new 3M laser tape is the finest protective tape product we have ever seen. I expect several more exciting announcements in the coming months."