Apex unveils new Crescent and Lufkin tools
Apex Tool Group unveiled several new professional and do-it-yourself tools from the company's leading brands, including Crescent and Lufkin.
---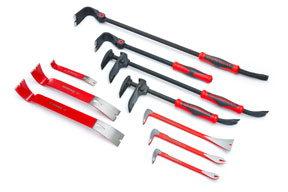 What's New from Crescent
Crescent unveiled the Code Red line of 10 new renovation and demolition tools, which includes prybars, utility bars, flat bars and molding bars. The company spent many hours in the field with professional and DIY users to develop renovation products that feature greater strength, leverage and precision than the demolition tools on the market today.
Crescent also introduced the OddJob multi-purpose tool, which combines the most common household tools (hammer, mallet, nail puller, ratcheting screwdriver with bits and flexible extension and a retractable utility knife) in one lightweight, easy-to-store product. As the name suggests, the OddJob is handy for many different tasks, such as hanging pictures, assembling toys or furniture, and opening boxes.
Additionally, Crescent revealed new X6 Series Wrenches, X2 Extended Access Pliers and an innovative Ratcheting Adjustable Wrench.*
"Crescent is perhaps best known for inventing the adjustable wrench more than a century ago," said Griffin Biering, product manager for Crescent. "These new innovations prove today's Crescent is about much more than adjustable wrenches."
What's New from Lufkin
Also on display for the first time is the Lufkin Control Series tape. The new tape has an opening that allows users to regulate the feed and return of the tape with their finger.
"There hasn't been a major innovation in the industry for many years – the focus has been all about a tape measure's standout," said Tobias Bridges, product manager for Lufkin. "Lufkin's new Control Series breaks out of the pack by promising greater control, which makes the product feel more like an extension of your arm than a hand tool."