Bibielle Convolute Wheels
Bibielle Abrasives Technologies introduced a new line of convolute wheels designed for deburring, blending and finishing applications.
---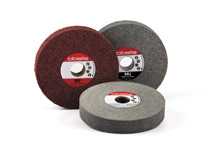 BCW wheels are designed for use on metals, composites and glass. The Bibielle Convolute Wheels offer consistent finishing and are tear resistant. Bibielle's Convolute product line includes BCW-DB Deburring Wheels, BCW-DB-R Deburring Wheels, BCW-MF Multi-Finishing and BCW-MF Metal Finishing Wheels.