Industrial-strength maintenance products
WD-40 Company introduced Blue Works, a new line of industrial-strength specialty maintenance products.
---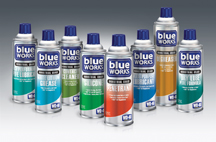 The line consists of eight products: Contact Cleaner, Degreaser, Dry Lube PTFE Formula, High-Performance PTFE Lubricant, Multi-Purpose Lubricant, Penetrant, Silicone and White Lithium Grease. Developed at the WD-40 Research and Development Center, Blue Works is the first line of products that carries the WD-40 Company signature on its cans. Each product in the line is Industrial Grade, and multiple independent ASTM tests show Blue Works outperforms leading competitors.