Bold and bright markers
The Markal line of Valve Action Paint Markers now features faster drying, low chloride, Xylene-free paint.
---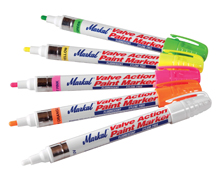 It also offers a tough new nib and convenient ClipGrip cap, to increase marking performance while eliminating environmental and regulatory issues that may exist with other paint marking products. Markal enhanced its color options to include four new fluorescent colors (yellow, green, orange and pink) as well as an ultraviolet option to serve as a solution for invisible marking needs.