Crescent Pivot Pro Pliers
Crescent unveiled a variety of new hand tools and line extensions including its Pivot Pro Pliers.
---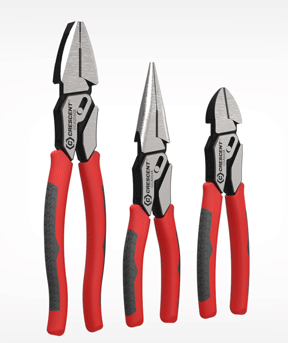 The Pivot Pro Pliers feature a unique pivot point in the center of the body, allowing for additional leverage, delivering nearly double the force of standard pliers. The Pivot Pro Pliers require 40 percent less force to cut through items such as heavy-gauge electrical wires and cables. Unlike other pliers that are unable to cut some cables and require two-handed force, Crescent Pivot Pro Pliers are easy to use with one hand and have added grip, enhancing end user comfort. They are an ideal tool, whether working on a simple at-home task or large renovation project.
Crescent also expanded its popular X6 Series with the introduction of the 4-in-1 Double Box Ratcheting Wrench. The special X6 design allows the wrenches to work on six different types of fasteners, including square, hex and spline. The two-piece double-ended set can then turn eight different sizes of each type, making this a truly versatile tool. In addition, the ratcheting action lets you turn nuts and bolts without ever removing the wrench. The sleek design allows end users to comfortably apply more torque when working on tough jobs. The set is available in both SAE and metric sizes.