McKissick tubing grab
McKissick's Patent Pending Tubing Grab is designed to provide a quick, easy and efficient attachment for the lifting of tubing to and from the rig floor in "well servicing" applications.
---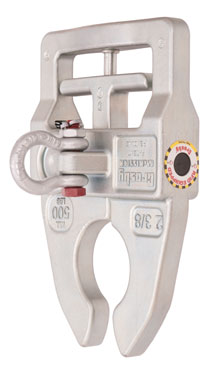 Specifically, the McKissick Tubing Grab engages the tubing adjacent to the flared end allowing the tubing to be moved from storage to the rig floor where the elevators can then be utilized to upright the tubing vertically. With a 500 lbs. Working Load Limit, the McKissick Tubing Grab will work with 2 3/8" or 2 7/8" tubing.
The McKissick Tubing Grab is easy to engage or disengage from the tubing. Pulling of the trigger provides easy insertion or removal of the tubing and releasing the trigger "locks" the tubing grab in the closed position for maintaining load control. Individually proof tested to 125% working load limit, the McKissick Tubing Grab is fitted with a 3/8" G-2130 Crosby Shackle for attachment to the air tugger line. A secondary lifting eye is provided for the attachment of a tag line. All sizes are RFID equipped.