Daylight Company work-station lamp
The Daylight Company introduced the Triple Bright Light (U32500), the most powerful work-station lamp available today for use by manufacturing and inspection professionals.
---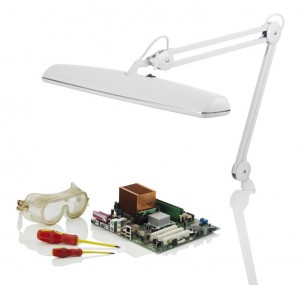 The wide-area lamp has three super-bright Daylight energy saving tubes that provide the equivalent of 250 watts of full-spectrum, high-quality light yet use just 14 watts of electricity each.
"The Triple Bright Light is ideal for the work bench, drawing board and large tables in factories and other work areas from jewelry manufacturing to laboratories. It's great anywhere that requires absolutely the brightest light available to get the job done right," said Steve Pomeroy, vice president of sales of The Daylight Company.
The tubes used in the Triple Bright Light lamp produce 6,500°K light, which improves contrast, reduces glare, relaxes the eyes and shows colors perfectly.
The shade of the lamp is designed to shed high-quality light over a 3-foot area and the internal springs of the high quality metal arm allow it to be adjusted vertically, horizontally and laterally to any desired position. The lamp fastens safely to the table or bench with a strong metal lamp stem and clamp, with optional table and floor stands available. The Triple Bright Light lamp head size is 24 inches x 4.3 inches x 2.4 inches and the reach of the arm is 33 inches.