Dialight SafeSite fixture certified for hazardous locations
Dialight announced that its new SafeSite Series LED Linear Fixture has achieved certification to the Class I, Div 2 standard for use in hazardous locations.
---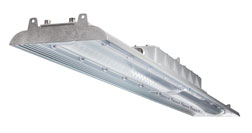 Engineered specifically to replace linear fluorescent lighting fixtures, the new SafeSite Linear Class I, Div 2 product is designed to provide superior visibility, optimum energy efficiency and low-cost maintenance for any location where there is a potential of flammable gases or vapors present, even under extreme conditions.
"With the addition of this certification, Dialight is now able to offer our customers the largest portfolio of complete LED hazardous location fixtures in the industry," said Dialight's Group chief executive Roy Burton. "This fixture combines state-of-the-art LED technology with Dialight's industry-leading expertise in delivering the lowest overall operating cost of any hazardous location fixture on the market with this durable, lightweight and innovative design."
Operating at 64 lumens per watt, the SafeSite Linear offers a CRI rating greater than 70 providing cool white light at 6000K CCT for improved visibility and operating efficiency compared to traditional HID. Available in both 2-foot/50 Watt and 4-foot/100 Watt versions, the SafeSite Linear Series has been certified with an industry leading T5 temperature rating. The SafeSite series showcases Dialight's superior design that offers multiple mounting options and ease of installation with existing wiring.