Dtec adds diamond blades
Dtec, a product division of Affinity Tool Works, has added a new line of diamond blades to its Contractor Series.
---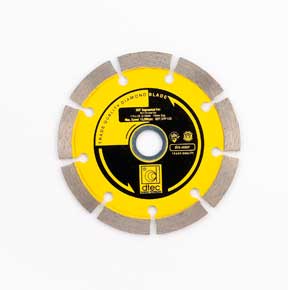 By pairing a segmented design with durable construction, the Contractor Segmented blades offer the speed and performance of high-quality, expensive diamond blades, yet provide an economically priced option. The new blades are able to cut a variety of building materials such as brick block, concrete and stone, making them ideal for tradesmen in the concrete and masonry industries.
Consisting of multiple, strategically-placed 10-millimeter-high segmented sections, the Contractor Segmented blades offer a distinct longevity advantage over typical blades that only incorporate a segment height of 7-millimeters. The increased segment height exposes more cutting surface, which extends blade life. Not only does this save on replacement blade costs, it also reduces costly downtime due to frequent blade change-out.
Furthermore, the design also prevents excessive heat build-up – the number one threat to a diamond blade's longevity. The segments provide a break or "relief" in the blade's rim, preventing heat transfer and allowing the blade to run cooler in both wet and dry applications. Additionally, increased airflow and cooling reduces blade warping and encourages precise, accurate cuts throughout the blade's life. Overall, the Contractor Segmented blades have been shown to last up to 43 percent longer over time than similar competitive blades.