ITW Dymon Spray Nine
ITW Dymon announced the addition of Spray Nine to its portfolio of ITW Dymon Professional Brands.
---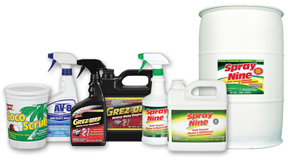 "As the industry's first 'spray-on, wipe-off' cleaner and disinfectant, and a trusted product for more than 50 years, we're excited to introduce Spray Nine to the ITW Dymon family of Professional Brands," said ITW Dymon Director of Sales & Marketing Rich Bucher. "This move represents a consolidation of synergistic brands under one 'umbrella' company."
Spray Nine is a cleaner, degreaser, disinfectant, and deodorizer used in schools, factories, offices and government settings. An EPA-registered product, Spray Nine sanitizes in 10 seconds, disinfects for viruses in 30 seconds and kills 99.9 percent of germs in 45 seconds – claims only Spray Nine can make.
The Spray Nine product line also includes COCO SCRUB and POLY SCRUB hand cleaners, EARTH SOAP and GREZ-OFF industrial cleaners and degreasers, and specialty cleaning products Odor Eliminator, AV-8 Aircraft Soap, AV-8 Aircraft Soap, Glass & Stainless Steel Cleaner, Tub N' Tile, and Screen Cleaner.