Flexaust vehicle and chemical fume removal hose
Flexaust introduced an expanded line of high-temperature hose in several temperature ranges for a variety of vehicle exhaust and chemical fume removal applications.
---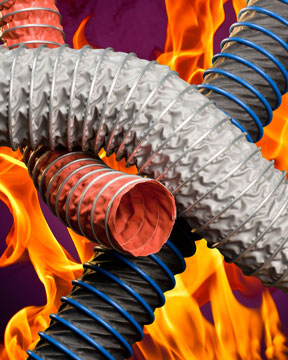 Flexaust Flex-Lok High Temperature Hoses are made from materials which are locked around a galvanized or stainless steel metal clip and mechanically crimped in a continuous process. Featuring high chemical and abrasion resistance, these robust clip hoses are now offered in several styles that are rated for service from -65°F to 1,050°F to match specific customer requirements; available in sizes ranging from 3" to 18" I.D.
Flexaust Flex-Lok 1050 is constructed with a single-ply aluminum coated fiberglass fabric and operates at 1,050°F, Flex-Lok 750 is made of double-ply silicone coated fiberglass for service at 750°F, Flex-Lok 575 is a single-ply Kevlar for 575°F, and Flex-Lok 300 is a single-ply neoprene coated polyester for 300°F service. Other materials are also available.
Flexaust Flex-Lok High Temperature Hoses are priced according to construc-tion, size, and quantity; with plastic clip covers are optional. Samples are available upon request.