Flexaust Mark 2 Insulation Hose
Flexaust introduced a line of crush-resistant insulation blowing hose engineered to aerate and fluff up cellulose and fiberglass insulation to optimize its volume and coverage.
---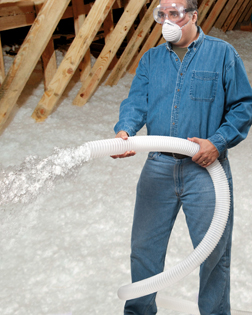 Flexaust Mark 2 Insulation Hose is a medium weight polyethylene hose that is reinforced with a spirally-wound translucent integral polyethylene helix which lets users monitor material flow. Featuring a convoluted interior to create a vortex that aerates and fluffs the insulation for maximum volume and coverage, this hose was especially developed for blowing insulation.
Easy to handle around corners and up stairs for most blown in insulation applications, Flexaust Mark 2 Insulation Hose comes in 1.5", 2", 2.5", 3", 3.5", and 4" dia. sizes in standard 25 and 50 ft. lengths. This rugged, crush-resistant hose operates from -40°F to 140°F and is manufactured from FDA acceptable materials. Different color helixes are offered for OEMs.