GOJO Purell Advanced Instant Hand Sanitizer
GOJO announced the new Purell Advanced Instant Hand Sanitizer designed to offer unprecedented germ-fighting qualities and a skin-friendly formulation.
---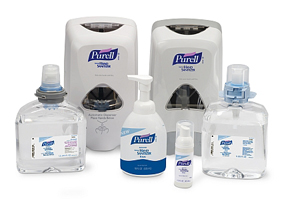 Purell Advanced Instant Hand Sanitizer combines leading antimicrobial and skin care science with advanced germ-fighting protection in a formulation that's gentle and nurturing to hands. According to research, Purell Advanced Instant Hand Sanitizer formulations outperform other hand sanitizers ounce for ounce - even those with higher levels of alcohol.
"Taking advantage of more than 60 years of skin health and hand hygiene innovation, GOJO scientists developed this new formulation based to maximize the impact of alcohol on bacteria so it can penetrate the cell membrane more effectively," said Kathleen Hooker, marketing director at GOJO. "In addition, GOJO added four different skin conditioners to help maintain the skin health of even the most frequent users."
The Purell Advanced Hand Sanitizer formulations are available in soothing gel or luxurious foam, with a variety of dispensing options to help ensure control of pathogens and good skin health in the most demanding environments. GOJO offers Purell Advanced products in original, aloe and skin nourishing formulations.