Goldblatt Tools 4-inch flooring saw
Goldblatt Tools 4-inch Universal Flooring saw can cut ceramics, metal, wood, cement board, and many other hard surfaces used in flooring installation.
---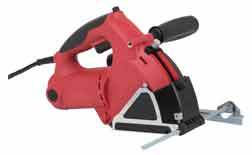 Unique depth-setting knob ensures that cuts are made precisely and will not damage any working surfaces or underlayment. Blade guard only exposes the blade when engaged in the cutting, and not when removed from the surface. Side rip guard allows long cuts on wood planks and other materials accurately and without marking. This saw can also be attached to any standard industrial vacuum to remove dust from cutting indoors.