Greenlee battery-powered punch driver
Greenlee has designed a new Battery-Powered Knockout Punch Driver that is capable of punching up to 6-inch conduit holes in 14-gauge mild steel or up to 2-inch in 14-gauge stainless steel.
---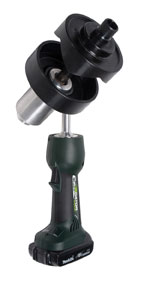 The new LS50L is part of the Greenlee "L" series battery tool platform with state-of-the-art 18V lithium-ion battery power and was developed for residential, commercial and industrial contractors.
"Greenlee wanted to be the first manufacturer to provide customers with a battery-powered knockout punch driver with the speed and battery charge life of the LS50L," said Joshua Jacobs, Senior Product Manager, Power Tools Accessories for Greenlee. "We believe no other comparable tool currently on the market can match the results delivered by this battery-powered knockout punch driver."
The new LS50L Battery-Powered Knockout Punch Driver features a lightweight, compact design and a 360 degree swivel style rotating head that provides easy positioning in tight corners and difficult work areas.
The tool punches holes in half the time, compared to similar products, and doubles the amount of holes that conventional battery or hydraulic drivers can deliver. The battery provides 70-percent more cycles per charge. A LED indicator provides the operator with the battery charge and tool maintenance status. The smart chargers control the charging current, charging voltage and battery temperature to maximize battery life.
The new LS50L Battery-Powered Knockout Punch Driver has a one trigger control for the tool, which automatically senses when the hole is complete and automatically retracts to prevent damage to the punch and die. With its in-line tool style and light weight it is very easy to control, and the over-molded tacky grip areas provide a more firm and comfortable hold. The LED work light illuminates dark work areas.