Guardair Personnel Cleaning Station
Guardair Corporation's new Personnel Cleaning Station is a safe-to-operate vacuum designed to clean dust, powders, and debris off workers' clothing.
---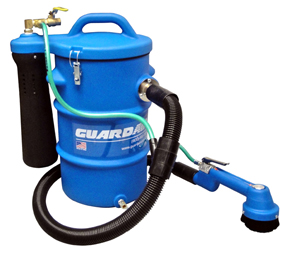 It eliminates the dangerous practice of self-cleaning with compressed air.
OSHA Directive STD 01-13-001 prohibits the use of a "gun, pipe, or cleaning lance" for self-cleaning which might blow "a chip or particle into the eyes or unbroken skin of the operator or other workers." Use of the Personnel Cleaning Station eliminates this dangerous practice through innovative vacuum technology.
"The innovation and development efforts behind the Personnel Cleaning Station demonstrate our continued focus and commitment toward workplace safety," said Eric Mills, Vice President Sales & Marketing, Guardair Corporation. "We are pleased to be able to offer the PCS in a market where there is a currently a void for such a solution."
Running off standard shop compressed air, the Personnel Cleaning Station pairs a proprietary, on-demand air-agitator brush attachment with a high efficiency pneumatic vacuum. Thumbswitch activated, the air-agitator loosens and lifts particles airborne where the vacuum sucks them away safely and effectively. With no motor to burn out, the Personnel Cleaning Station is virtually maintenance-free. The unit mounts on any vertical surface, saving valuable factory floor space. Constructed from rugged polyethylene, the Personnel Cleaning Station boasts an easy-to-empty design.
Weighing in at 13 pounds, the Personnel Cleaning Station includes a 5.5-gallon container, pre-drilled steel mounting bracket, 10 ft vacuum/supply hose assembly, and air-agitator brush attachment. Featuring a 3/8 FNPT inlet, the unit generates vacuum flow of 73 cfm, yet consumes only 33 cfm of compressed air. Equipped with a standard cartridge filter (77% efficient at 0.8 Microns), or optional HEPA filtration, the Personnel Cleaning Station is backed by the Guardair Forever Warranty, manufactured in the USA, and meets OSHA standards.