Hamilton Caster Ultralast wheels
New Ultralast wheels from Hamilton Caster are built to last, even under heavy loads and with continuous, higher-speed use.
---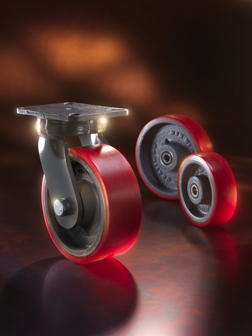 The industrial wheels are made from new polyurethane material enabling them to roll more smoothly and easily with loads up to 7,200 pounds.
Recommended for continuous duty, power-towed and higher-speed applications on smooth surfaces, Ultralast wheels incorporate a new, high performance polyurethane. The new material minimizes the heat buildup that can cause traditional polyurethane wheels to fail. During testing, Ultralast out-performed other options by 20% or more.
"Ultralast continues more than a century of innovation," said Hamilton's vice president of marketing, Mark Lippert, who is a fourth generation employee in his family's business. "From the beginning, our mission has been to deliver an unparalleled level of quality, customer service and break-through products to support our customers' operations."
The new wheels are available in two standard designs. Standard Ultralast has a 3/8th-inch thick tread that is chemically bonded to a heavy-duty, cast iron center. Super Ultralast wheels incorporate a 1-inch tread molded to a super heavy-duty forged steel center.
Custom wheel combinations are also available.