Hamilton Caster reintroduces platform truck
Hamilton Caster re-introduced its highly popular model PB1108 2000-lb class platform truck.
---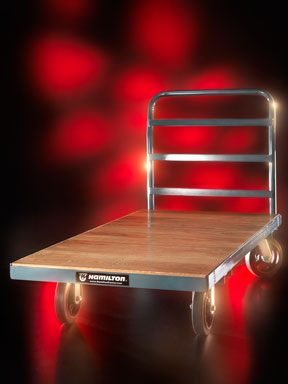 A Hamilton design team successfully implemented DFMA principles to its heavy-duty design and a second Hamilton team implemented lean manufacturing process improvements to its methods and processes used to manufacture the cart in the USA.
The sturdy all-steel frame remains intact, as does the kiln dried, premium quality hardwood deck which muffles noise and protects the load from damage. The cycle time to build the industrial cart has been reduced through the removal of wasted time, movements and resources making this cart efficient to manufacture.
Better running gear has been added to improve the truck's rollability. Using 8" x 2" premium moldon rubber tired wheels with ball bearings reduces the required starting forces by as much as 20 percent vs. most of its rubber-tired competitors, making this wheeled cart a clear choice when ergonomics are factored into the buying decision. These premium wheels reduce operator fatigue and the related risk of an expensive back injury or other muscle strain.
Through its lean initiative and continuous improvement policy, the company has been able to improve the product, lower the list price, and ship all model from the Hamilton, Ohio factory in as little as 24 hours.