Loctite Nordbak sprayable ceramic coating
Henkel has introduced a two-part, sprayable ceramic coating designed to protect metal surfaces on industrial equipment from wear, abrasion and corrosion.
---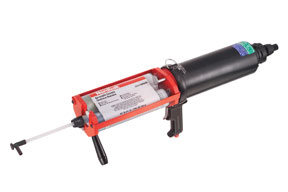 Packaged in a convenient, reusable dual-cartridge dispenser, Loctite Nordbak 7255 Sprayable Ceramic Coating is sprayed onto metal components to create smooth, low-friction surfaces that improve equipment efficiency.
The sprayable coating may be quickly and evenly applied to large surfaces and complex or intricate areas that are difficult to coat. Loctite Nordbak 7255 is ideal for use on tank linings, mixing vessels, pump housings, impellers, chutes, troughs and centrifuge components. The solvent-free, thixotropic formulation can be used in overhead applications, and adheres very well to a range of metal surfaces.
Loctite Nordbak 7255 acts as a sacrificial and renewable surface, protecting metal components from abrasive and corrosive agents. The coating can be reapplied over existing epoxy surfaces.
Loctite Nordbak 7255 is packaged in a 900-ml dual-cartridge dispenser. The cartridge comes with two static mix nozzles that ensure thorough mixing.