Hyde glass scrapers
Hyde Tools has introduced three new Hyde glass scrapers with a new look and new functionality.
---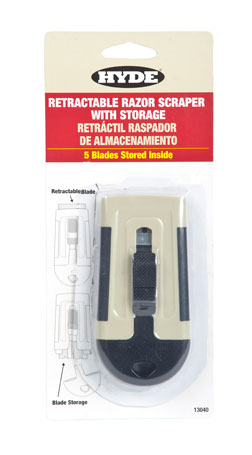 The high end of these offerings is a retractable, soft-grip glass scraper with built-in storage that is ideal for removing coatings, paint and stickers from glass, mirrors or windshields. The rubberized body provides a safe, sure grip as well as comfort – and tucked into the tool is convenient storage for up to five razor blades.
Two additional scrapers being introduced also feature blade storage. These include:
A new mini-scraper with easy blade change and storage for five blades.
A new 4" glass and wall scraper with quick blade change feature and in-handle blade storage for five blades. This item includes a reversible blade: One side scrapes, the other shaves.