Hyde blades for electric, cable cutting and splicing
A full line of hand knives designed specifically for electric, cable and telephone line cutting and splicing is available from Hyde Industrial Blades Solutions (IBS).
---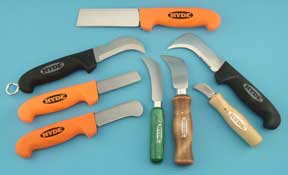 Installers and lineman from utility companies and private electrical contractors can look to Hyde Lineman's Knives to hold a sharper edge for clean cutting longer than competitive blades.
The company employs proprietary processes in blanking, laser cutting, heat treating, grinding and polishing to ensure superior cutting performance of each individual blade. Manufactured in facilities with ISO 9001:2008 plant certification, durable Hyde IBS Lineman's Knives are engineered for long-life.
Hyde IBS makes a complete line of Lineman's Knives with a variety of blade types including skinning knives, with or without notches or serrations, splicer knives, long round and short round knives, square point and long mill knives for almost any line cutting or splicing application.
Hyde Lineman's Knives come with a number of handle options including standard wood or an ergonomic SoftGrip plastic handle with or without eye rings.