Hyde Tool Pro Brass scrapers
Hyde Tools has unveiled four new Pro Brass Scrapers.
---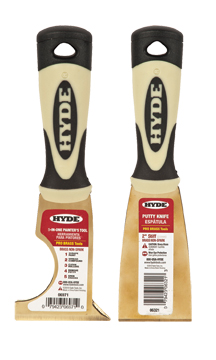 These new solid brass scrapers with spring-tempered stiff blades provide peace of mind regarding protection against fires and explosions in environments where there is a concern about sparks igniting. Each blade is individually ground, mirror finished and clear coated to ensure optimum durability. Complete with overmold handles, these scrapers are not only safe, but comfortable to use.
The New Pro Brass Scrapers come in a variety of sizes and shapes:
1 ¼" Stiff Pro Project Brass Putty
2" Stiff Pro Project Brass Putty
3" Stiff Pro Project Brass Scraper
2 ½" Pro Project Brass 5-in-1
The scrapers hang at retail from a large hanging hook, which is also helpful to users for easy storage.