Hyde Heat Resistant Hand Knife Handles
Designed for increased comfort and protection vs. traditional wood handles, Hyde Industrial Blade Solutions (IBS) has introduced a new line of Heat Resistant Hand Knife Handles for knives used by professionals to cut, sheer, trim, slit or slice materials on the line or in the field.
---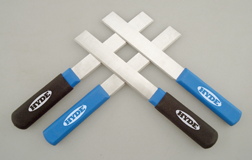 Hyde's new Heat Resistant Hand Knife Handles are made of a proprietary composite nylon-based material and are engineered not to transfer heat to hands when used on blades heated up to 500 degrees Fahrenheit. These plastic/resin handles will not crack or splinter compared to their wood counterparts offering longer-life and safe-use. Non-absorbent by design, these handles will also not spread contamination from liquids or other sources often found in harsh working environments.
Hyde Heat Resistant Knife Handles can be utilized on most standard square point,
v-trim, ply and hook knives and fitted for custom-shaped blades such as those found on
z-knives. These handles find themselves welcome in many industries and applications including tire and rubber manufacturing processes, injection molding and plastic fabricating operations, fiberglass and foam manufacturing.