IPA Grease Joint Rejuvenator
IPA's Grease Joint Rejuvenator opens clogged grease joints and fittings on farming, excavating, construction, and industrial equipment.
---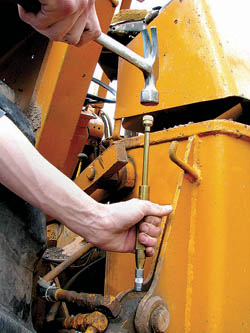 The Grease Joint Rejuvenator provides a quicker and better option than fishing wire through, heating, or disassembling the joint, saving countless hours of work! By forcing light oil into the joint, the Grease Joint Rejuvenator flushes out dirt, and old hardened grease for new grease to be pushed through.
The Grease Joint Rejuvenator is available in three kits and has a lifetime warranty:
The Professional Model (#7862) comes with Professional Model Grease Joint Rejuvenator and a 5 inch Flex Hose for hard-to-reach fittings.
The Pocket Model (#7864) works the same as the Professional Model, but is small enough to fit in your pocket, and is especially handy for small equipment.
The Master Kit (#7863) includes Professional Model, Pocket Model, 5 inch Flex Hose and extra coupler.