Irwin Multi-Material drill bits
Irwin Tools introduced a full line of multi-material drill bits for drilling through brick, block, tile, metal, wood, laminate, plastic, and marble and more.
---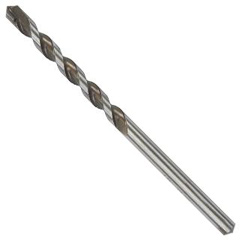 The bits will even drill through multiple materials at the same time, the company says. They have a unique diamond-ground, four-facet carbide tip with super-sharp cutting edges that guarantee centered starts with no walking, fast drilling, and excellent hole quality. The versatile bits have a double-milled flute that removes dust and debris quickly and efficiently, which not only increases drilling speed (with no clogging), but results in longer bit life as well. These bits are built tough for hammer drilling, but recommended for use in rotary mode.
"For more than 125 years, IRWIN has been engineering and manufacturing all types of drill bits," said Jon Schlosser, Director of Marketing for IRWIN Tools. "We literally talk to hundreds of professional tradesmen each year, simply to learn what's most important to them on the jobsite. They repeatedly express frustration with having to carry around multiple types of drill bits, and switch out bits depending on a particular material they need to drill into at any given time. It's time consuming and discouraging."
"With IRWIN's new multi-material bits, tradesmen can drill through all sorts of materials with a single bit," Schlosser continued. "These bits even drill through multiple materials at the same time. For instance, when drilling through a tile floor, there's more than just the tile. There's also a backer board and a sub-floor or concrete slab. With a kitchen backsplash, there's tile, backer board, drywall, and possibly a wood stud. These bits will drill right through every layer of building materials. There isn't a skilled tradesman on the planet who won't appreciate having these bits in his toolbox."
IRWIN Multi-Material drill bits are compatible with all standard 1/2" and 3/8" chuck drills. They are available in 3- to 5-inch jobber lengths and 16-inch extended length, with diameters ranging from 1/8 to 1/2 inches. They can be found at home centers, hardware stores, and construction and industrial tool distributors throughout the U.S. and Canada. The suggested retail price ranges from $3.99 to $20.99, depending on length and diameter.