Jackson Safety air purifying respirator
Welders can now obtain affordable protection from harmful particulate contaminants with the new Jackson Safety Brand R60 Airmax Powered Air Purifying Respirator (PAPR).
---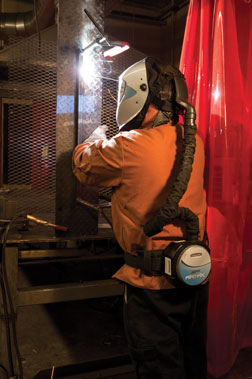 The new PAPR features a NIOSH-approved HE filter for particulate contaminants that can be easily set and locked into place.
"The Jackson Safety R60 Airmax PAPR can help provide necessary protection in accordance with new OSHA guidelines on hexavalent chromium fumes," explains Tami Wenzel, category manager, Kimberly-Clark Professional. "These fumes may be produced when welding on stainless steel and can cause serious respiratory issues without proper protection."
The new Jackson Safety R60 Airmax PAPR comes complete with fully adjustable headgear and a welding helmet featuring a Jackson Safety W40 series variable auto-darkening filter. The ADF automatically detects weld arcs and switches to weld shade, which can be adjusted to shade 9-13 with a light shade of 4. The variable ADF is ideal for MIG, TIG and Stick welding.
A flame-retardant face seal around the welding helmet protects welders from sparks, and the helmet's shape helps to prevent embers from sitting on the shell. The unit's breathing hose is flame-retardant and extends approximately 35 inches for maximum flexibility.
Powered by a lightweight, eight-hour lithium ion battery, the compact blower unit has a wide, adjustable waist belt. An audible alarm gives the user a signal when a new filter or battery charge is needed. The unit comes with a "smart" battery charger that indicates when charging is complete to avoid overcharging. An airflow indicator also is included for checking the unit's airflow prior to use.
"The Jackson Safety R60 Airmax PAPR is more compact and lighter than many other PAPRs, which helps to reduce user fatigue" Wenzel adds, noting that it also is intuitive and easy to operate. "And it gives shop owners a trustworthy, budget-sensitive solution to their PPE needs."