Kimberly Clark alternative fiber products
Kimberly-Clark Professional announced that it has become the first major tissue manufacturer to introduce products containing non-tree fibers to the North American market.
---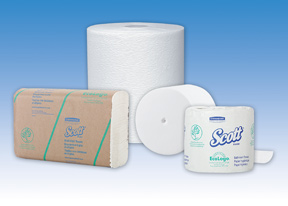 The new Kleenex and Scott offerings represent an early phase of the Kimberly-Clark Professional effort to advance a corporate-wide initiative aimed at accelerating the use of rapidly renewable, non-tree sources of fiber in Kimberly-Clark products. The goal of this corporate initiative is to reduce the company's Forest Fiber Footprint, while continuing to deliver high-quality, cost-effective products.
Initially, the alternative fiber products will contain 20 percent non-tree fibers, including wheat straw and bamboo. These fibers both meet the U.S. Green Building Council's (USGBC) definition of "rapidly renewable" fibers, meaning the materials regenerate in less than 10 years. This shorter harvesting cycle allows for more efficient and sustainable use of land and resources, and reduces pressure on forests and other critical habitats. Wheat straw is an agricultural byproduct of harvesting grain. Its use in towel and tissue products essentially puts fiber that might otherwise be "waste" to good use.
"We are encouraged by the continued willingness of Kimberly-Clark Professional to question industry norms and seek new solutions for some of the complexities related to forestry and sustainability," said Kerry Cesareo, managing director of World Wildlife Fund's Forests program. "By 2030 we would need two Earths, even using conservative estimates, to keep up with global demand for food, fiber and fuel. We remain cautious in our optimism regarding these efforts and the eventual solutions to reduce Kimberly-Clark's forest fiber footprint, but we all certainly need to learn to do 'more with less.'We hope an increasing number of companies will follow Kimberly-Clark's lead and engage in new conversations about how we can collectively navigate sustainable paths in a resource-constrained world."
The use of alternative fibers exemplifies the Kimberly-Clark Professional commitment to innovation while aligning with its Reduce Today, Respect Tomorrow philosophy, which calls for responsible sourcing of raw materials including fiber.
The new Kleenex and Scott alternative fiber towel and tissue products join the family of Kimberly-Clark Professional products carrying Forest Stewardship Council (FSC) and EcoLogo certifications. Kimberly-Clark Professional currently holds the largest portfolio of FSC certified towel and tissue products in North America, with nearly 97 percent of its towel and tissue codes carrying this certification.
These products, by meeting EPA minimums for recycled content and containing rapidly renewable fiber, can help facilities earn points toward LEED for Existing Buildings: Operations & Maintenance certification.
"These alternative fiber products are an exciting next step in our continuing commitment to fiber leadership as well as for the industry as a whole," said Howard Connell, global sustainability leader, Kimberly-Clark Professional. "Discovering innovative fiber streams for our material inputs and shifting the way we look at resource consumption while delivering the same quality, performance, and value in our towel and tissue products is a major progression in our ongoing sustainability efforts."