Kuriyama Oil & Gas Products catalog
Kuriyama Oil & Gas Products for onshore/offshore drilling and production, provide reliable and dependable service for the demanding requirements within the oilfield industry.
---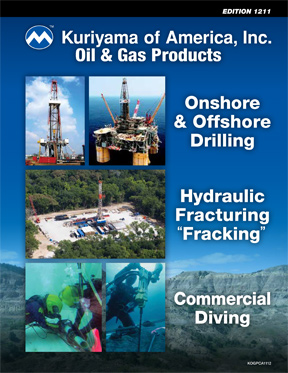 The new Gatorflow Terrain PVC/Nitrile rubber discharge hose, handles frack solutions and fresh water transfer; available in 8" and 10" ID sizes in 660' lengths. Kuriyama Oil & Gas Products for commercial diving, provide unique hose products for air breathing, low pressure air and hot water. Onshore/Offshore Specialty Umbilicals can be individually designed for customer requirements. Twin Line high-pressure hoses are designed for use with underwater hydraulic tools.