Lincoln Electric Welding Gear Catalog
Lincoln Electric's updated 2013 Welding Gear Catalog offers numerous new apparel and tool products that are functional, stylish and safe for fabricators.
---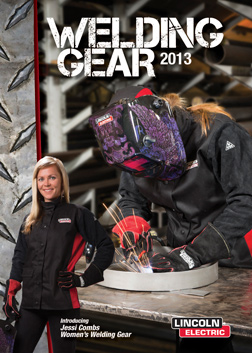 Highlights in the latest catalog edition include the new line of Jessi Combs Welding Gear designed especially for women, options for custom embroidery on welding jackets and additions to the facial protection category.
New offerings include:
Jessi Combs Women's Welding Gear: The new line tailored for female fabricators includes the VIKING 1840 Series Amp Angel Auto-Darkening Welding Helmet, Women's Shadow Welding Jacket, and several glove options sized for female hands.
Custom Embroidery: Now Red Line Welding Gear welding jackets and shirts can be personalized with name, school or company logo, or both.
New Facial Protection Category: Lincoln Electric is now offering a wider variety of facial protection equipment, including clear, padded safety glasses; face shields; and Shade 3 and 5 cutting and grinding goggles.
Welding Brushes: Offered in various bristle configurations for different applications and three different bristle alloys for use on specific base materials, the line includes: stainless steel bristle models for use on stainless steel and aluminum, brass bristle models for use on aluminum, and carbon steel bristle brushes for use on mild steel.
Welding Curtains: Curtains are designed to be hung vertically in light to moderate exposure applications to protect workers, equipment and the work area from sparks, spatter and grinding particulate.
Welding Blankets: Two types, each rated for different levels of heat resistance, are intended to be draped horizontally to protect autos, equipment and the work area from sparks, spatter and grinding particulate.