Loctite Adhesive Sourcebook
The Loctite Adhesive Sourcebook, Volume 12, from Henkel Corporation is a comprehensive 202-page print and online guide to the complete line of Loctite adhesives, sealants, lubricants, coatings and dispensing/curing equipment for industrial manufacturing and maintenance.
---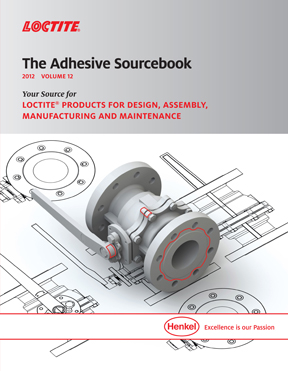 Opening with an explanation of why design engineers and maintenance professionals should consider using adhesives to replace or enhance the performance of mechanical fasteners, the updated and redesigned sourcebook features technical information on more than 1,200 Loctite products and includes decision trees to better guide the adhesive selection process.
The easy-to-use Loctite Adhesive Sourcebook is divided into industrial application categories: bonding, coatings, flooring/concrete repair, gasketing/sealing, lubricating, machining compounds, potting/encapsulating, repairing/rebuilding/restoring, retaining, surface cleaning, threadlocking, thread sealing, toolboxes/specialty kits, medical device solutions, and equipment. Each application category features easy-to-use product selector guides, typical applications, and information on primers, accelerators, and dispensing/curing equipment options. Selector guides provide product descriptions and technical information in an at-a-glance format.
The Adhesive Sourcebook also features a quick reference list of Loctite® products that meet agency and regulatory approvals from the ABS, CFIA, CSA, FDA, ISO, Mil-Spec, NSF, UL, ULC, NEHC, and NAVSEA. Easy-to-use indexes help readers to quickly locate specific Loctite products.