Markal Quik Stik Mini
LA-CO Industries has introduced the Quik Stik Mini to the expansive line of Markal-brand industrial markers.
---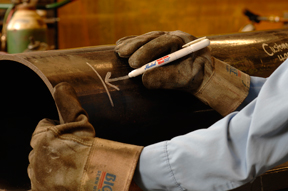 The Quik Stik Mini is a compact industrial marker that uses high-quality paint to provide the functionality and reliability trade professionals have come to expect from Markal.
This smooth-marking, solid paint marker dries in 5 to 7 minutes to allow for almost immediate handling, eliminating downtime. Made for tough industrial jobs, the durable plastic barrel will not break and the convenient twist-up knob easily advances and retracts the solid paint for 100% marker use. The self-storing, clip cap prevents the marker from rolling off work benches and creates a complete airtight seal, keeping the paint fresh until you next job.
Available in four bold, UV- and weather-resistant colors, the Quik Stik Mini creates marks that last, even in extreme conditions. Perfect for marking on wet, hot, smooth and rough surfaces, the marker has the industry's largest marking temperature range of 0°F to 392°F (-18°C to 200°C). Markal's Quik Stik Mini is small enough to fit in your pocket yet powerful enough for even the toughest surfaces including, metal, concrete, plastic, wood and lumber. With its small body and durable paint, this tool is an ideal marking solution for use in welding, ship-building, oil and gas, metal fabrication, and construction.