Magnet Source Retractable Retrieving Magnet
Master Magnetics Inc. announced the latest innovation to their line of retrieving magnets.
---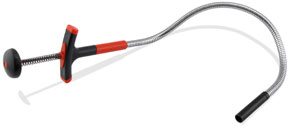 The Retractable Retrieving Magnet is the ideal tool for extracting metal parts from hard-to-access tight spaces such as cramped engine compartments, behind heavy equipment, down drains or heating vents.
This magnetic tool features:
Shielded Sides – Targets pickup – won't attract to metal surroundings until activated. Won't attract to other tools when stored in toolbox.
Flexible – 23-inch long shaft snakes through difficult or confined areas and holds its shape for hard-to-reach items.
Plunger Handle – User can activate magnet when tool is in position for retrieval. Thermoplastic handle and round knob for sturdy grip and comfort.
Neodymium Magnet – The world's strongest magnetic material provides maximum strength in a small size, ideal for retrieving items from tight spaces.
The trilingual, four-color, interactive packaging is an innovative design that displays the flexible shaft and allows retail customers to try the Retractable Retrieving Magnet in the store without opening the package.