Milwaukee M12 cordless caulk and adhesive gun
Milwaukee Electric Tool introduced the new M12 Cordless Caulk and Adhesive Gun.
---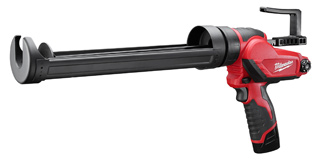 With 40% less weight than competitive cordless caulk guns, the new tool is the most compact and lightest weight professional battery-powered caulk gun on the market, the company says.
"For years the only professional battery powered caulking guns available have been high force units designed to dispense high viscosity materials in specialty applications. Users that do not commonly dispense these high viscosity materials such as construction, manufacturing, and trade professionals, have continued to use manual tools because the cordless options were too heavy and expensive," says David Lincoln, product manager for Milwaukee Tool Corporation. "The M12 Caulk and Adhesive gun is a lightweight, compact, and affordable solution that allows users to eliminate the excessive fatigue they experience by using repetitive manual tools all day. This new tool is optimized for use with common construction sealants and adhesives."
The M12 Cordless Caulk and Adhesive gun also features Constant Flow Technology for steady dispensing, and a 360º rotating collar design for easy use around turns. A variable speed trigger and six-setting maximum speed dial also optimize the tool's 0-28 IPM (inches per minute) flow rate for best-in-class control providing cleaner, faster installations. With 400 lbs. of pushing force the M12 Cordless Caulk and Adhesive gun easily dispenses common construction sealants and hot-applied glazing urethanes.
In addition, a Reversing Anti-Drip feature automatically backs up the plunger to relieve pressure from the tube. A durable hook made of impact modified nylon allows the user to hang the tool for storage while preventing breakage in rugged jobsite conditions.
The M12 Cordless Caulk and Adhesive Gun will be sold as a 10oz bare tool and in kits with the options of 10oz, Sausage, and Quart style material containers. With an interchangeable Quick-Change carriage design, carriage accessories will be sold separately to allow the user to quickly change the tool to accommodate different material styles.
The tool will dispense up to 150 10-oz. tubes of building sealant on just one charge.