Miter saw protractor
The L.S. Starrett Construction Division introduced the new ProSite 505P-7 Miter Saw Protractor.
---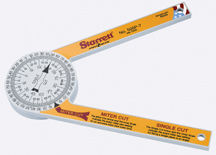 The new tool provides the functionality of the 505 Series at the lowest price-point to date. For mitering or making single butt joint cuts, the user simply adjusts the tool legs to the work surface, reads the angle on the dial face, and sets the miter saw to the reading. The result is a quick, accurate, professional miter cut. The 505P-7 is constructed of durable engineered plastic designed to withstand demanding job site environments. The seven-inch legs are tensioned and feature a Teflon O-ring for smooth, precise operation. The easy-to-read dial scales are laser engraved for exceptional accuracy.