Push-to-connect fittings in two materials
NewAge Industries now offers easy-to-use Newloc push-to-connect fittings in acetal copolymer and in brass.
---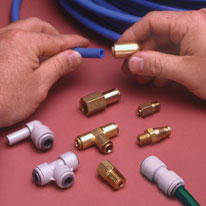 Both are stocked in popular sizes and styles and allow quick connections to rigid and semi-rigid tubing such as nylon, polypropylene, and polyethylene. Typical applications include pneumatic control systems, food and beverage transfer, potable water, robotics, instrumentation and chemical lines.
Newloc fittings offer instant, leak-proof connections with no flow restrictions, as well as a full vacuum rating (29.9 in/Hg). They're designed to work with rigid and semi-rigid tubing but may also be used with softer materials, depending on the tubing's durometer or by using a tube support.