NewAge Industries Nylobrade PVC hose
Nylobrade, the original braid reinforced PVC hose, was introduced to the U.S. in 1956 by Raymond Baker, founder of NewAge Industries Inc.
---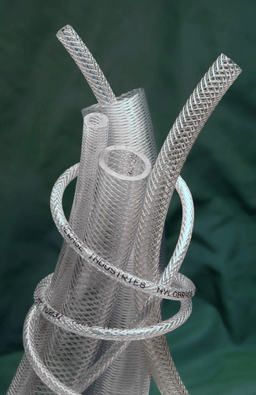 The company is proud to recognize the 55th anniversary of this remarkable and durable product this month.
Baker, an entrepreneur who started his own metal hardness testing equipment business, came across a new type of hose while on a trip to England. He felt the product had selling potential in the United States, but it didn't fit the hardness tester business. Baker started a new division with this revolutionary product that he called Nylobrade.
For decades Nylobrade has been used for liquid, air, and gas transfer in applications involving chemicals, foods and beverages, OEM, toys, pneumatics, low pressure hydraulics, MRO, pools and spas, medical devices, fuels and oils, and instrumentation. It is also used as protective jacketing.
Nylobrade recently gained NSF (National Sanitation Foundation) certification for potable water (NSF 61) and food equipment (NSF 51), allowing its use in these closely and carefully regulated applications.
Originally made with nylon braid reinforcement, today Nylobrade is manufactured in the U.S. from polyester braid material and crystal-clear PVC (polyvinyl chloride) thermoplastic. The interior of the hose is extruded first, then wrapped with braid. An outer layer of PVC is extruded to encase the braid and form the finished hose. All Nylobrade ingredients are non-toxic and conform to FDA and USP (United State Pharmacopoeia) Class VI standards. The hose also complies with the RoHS directive.
Nylobrade is stocked in sizes ranging from 1/8" to 2" I.D. and comes in three wall thicknesses – thin, standard, and high pressure. NewAge also stocks a variety of fittings and clamps to mate with Nylobrade.