Norton Vortex Rapid Finish non-woven right angle discs
Norton introduced Norton Vortex Rapid Finish Non-woven Right Angle Discs for the metal fabricating industry.
---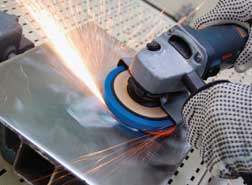 The new discs feature an innovative, high-performance engineered grain and improved resin bond system providing aggressive, fast stock removal and a fine finish.
Vortex Rapid Finish discs are positioned as Norton's "best" choice for removing light welds and blending stainless steel, including removing weld marks and splatter, small flashings, parting lines; deburring and cleaning. The new discs prepare surfaces before coatings / plating, perform light cleaning and remove blemishes after welding stainless.
A very tight, unitized construction offers several benefits for deburring and finishing, as well as reducing cycle times. A thick nylon web gives Vortex Rapid Finish discs twice the life and the ability to do faster finishing with minimal shedding. A porous construction provides cool cutting and an improved cut rate. Vortex Rapid Finish discs are manufactured with a new curing process and bond technology to result in consistent performance from first contact to stub size for improved part quality with no smearing. The new discs offer excellent form holding, and will not break down under heavy deburring conditions.