Oil-Dri Earth Friendly Sorbents
Oil-Dri's efforts toward environmental sustainability include a new line of recycled absorbents under the Resorb brand.
---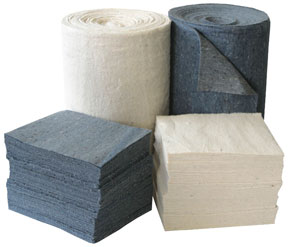 The line includes pads, rolls and spill kits. Absorbent pads and rolls are made from 85% all natural fibers and recycled material. These two criteria meet the requirements detailed in the federal procurement section of Executive Order 13423 (recycled content and biobased). Universal (blue) absorbs all fluids and is easily wringable for reuse. 'Oil select' (white) can separate petroleum-based fluids from water as hydrocarbons absorb into the natural fibers while water can be easily extracted from the material.
Material is fire resistant and passes ASTM E84 flame spread test. Spill kits are packed in triple wall corrugated drums made from up to 35% recycled corrugated fiber and 100% recycled Kraft linerboard. Drums comply with Sustainable Forestry Initiative Sourcing Standards and are 100% incinerable.