Oil Eater absorbent socks
Kafko International has introduced Oil Eater absorbent socks designed to isolate small
drips or protect drains and floors from runaway spills.
---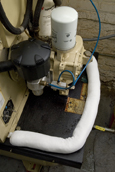 The socks are ideal for soaking up oils, coolants, water and solvents. They feature durable knitted sleeves to keep high quality synthetic and polymer filling safely inside.
Socks are available in both white oil only and grey universal styles in 3" diameters with 4-foot lengths.
Sample available upon request.