Osborn Flexsweep broom connectors
Osborn offers the Flexsweep attachment on its line of high-quality floor brooms.
---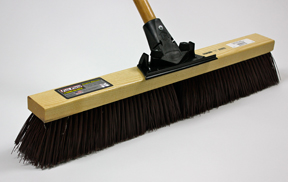 Flexsweep broom connectors are made of advanced technology polymer to flex on impact and absorb repetitive shock. The Flexsweep-equipped brooms are ideal for rugged use, providing extended brush life and improved performance.
Osborn brooms offer the right fill for every application with a range of broom fills that include natural horsehair, multiple types of styrene, tampico, tampico/wire mix and natural palmyra. All Osborn brooms are available in coarse, medium and fine sweeping grades with kiln-dried, lacquered hardwood blocks in lengths ranging from 14- to 36-inches.
"By adding the Flexsweep connectors on Osborn brand brooms, we're able to reduce the impact the users have to their wrists, arms, shoulders and backs," said Jeff Naymik, marketing manager at Osborn. "When other brooms break, these durable brooms flex. The long brush life and excellent performance of these brooms provide a better value to Osborn customers."