Polarized protective eyewear
The new 4X4 Polarized is an ideal eye protection solution for outdoor workers who face significant glare from bright sunlight.
---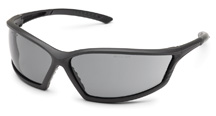 The dual lenses also eliminate eye-damaging ultraviolet radiation from the sun, blocking more than 99.9% of UV-A, UV-B and UV-C light. Reducing glare helps eliminate eye strain. It has a durable, yet lightweight wraparound frame with dual polycarbonate lenses, designed to look like modern sunglasses. Comfort features include a soft nosepiece for a snug fit and flexible temple tips to relieve pressure behind the ears. An anti-scratch coating helps maintain a clear view of the job site.