RIDGID micro CA-25
The RIDGID micro CA-25 hand-held inspection camera helps professional users see into hard-to-reach areas.
---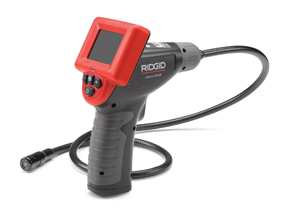 The micro CA-25 offers a rugged 17 mm (¾") aluminum camera head and one-handed pistol grip designed for multi-purpose visual detection, diagnosis and confirmation in hard-to-reach areas. The camera, permanently attached to a fixed three-foot cable, is easily capable of sliding into tight spaces such as behind walls and ceilings and inside mechanical devices and plumbing fixtures, making it an excellent choice for a variety of jobs.
Users will quickly get a visual handle on issues as images are transmitted to the device's crisp 2.4" color LCD (480 x 234 resolution) display screen that provides a 180-degree digital rotation and incorporates four adjustable, ultra-bright LEDs in the camera head.
Need a bigger picture? The lightweight device (1.3 pounds), powered with four AA batteries, comes with a television output and three-foot RCA cable for video transmission to a larger screen like a television or computer monitor. The product also comes with a hook, magnet and mirror – convenient accessories to make the job even easier.
"The hand-held inspection camera is now a standard tool for most industry professionals, even if it's only on-hand for that one nightmare job," said Sarah Golish, Director of Inspection Systems and Diagnostics for RIDGID. "The micro CA-25 is the perfect camera for the professional who doesn't have a heavy need for an inspection camera, but still requires a simple solution to confidently detect and diagnose problems."