Rayovac improves Ultra Pro alkaline batteries
Rayovac announced that its line of Ultra Pro alkaline batteries now lasts longer than its previous alkaline batteries based upon American National Standards Institute (ANSI) service life tests and more rigorous continuous drain testing applications.
---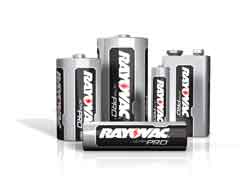 From October 2010 to April 2011 production, Rayovac Ultra Pro alkaline batteries have increased performance on ANSI tests by 5% on average in AA, 3% on average in AAA, and 4% on average in size C batteries. Current Rayovac Ultra Pro C batteries now last 23% longer and D batteries last 11% longer in the continuous drain testing compared with those produced in October 2010.
"Product performance is a top focus for Rayovac," said Kim Olson, Director, Industrial, Government and OEM for Rayovac. "Without high quality performance, we wouldn't be able to stand behind our brand."
"This product adjustment is a significant improvement in the quality of Ultra Pro batteries and represents the dedication Rayovac has to providing quality products that match or exceed competitor product performance," Olson said.
With their mercury-free formula, Rayovac Ultra Pro alkaline batteries are engineered for professional use with freshness guaranteed for seven years for AA, AAA, C and D; five years for 9V.