Re-Grip breathes new life into tool grips
Created to extend the life of tools, Re-Grip is a universal solution to worn-out handle grips.
---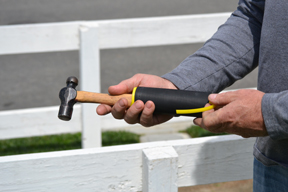 Significantly improving the few options on the market, Re-Grip uses strong, durable elastic material to provide mechanical and environmental protection while enhancing comfort for the user.
Re-Grip breathes life into old tools with worn-out grips. Replacement grips are usually specific to a particular tool or application and installed by a professional because of the difficulty of installation. This product can fit any handle that is cylindrical or semi-cylindrical. Its applications include tools like hammers and wheelbarrows, sports equipment like tennis racquets and bike handlebars, industrial applications like levers and wrenches, and everyday items like brooms and hairbrushes.
With its special patent pending design, Re-Grip is easy for anyone to install. The elastic grip is held extended by a helically spun inner coil, forming a tube that fits over the handle. The user simply pulls a tab at the bottom to unwind the coil, allowing the elastic grip to constrict around the handle. The entire process takes seconds. "We truly believe it will revolutionize the world of grips and handles" says Pat Roscopf, Co-Founder of Re-Grip, Inc.