Reed PE Squeeze-Off tool
Reed introduced the PES2 IPS/CTS (#04303) PE Squeeze-Off tool for ½" – 2" IPS and CTS pipe.
---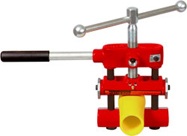 This new model has unique stops (#98125) which cover common IPS and CTS pipe sizes in one stops set. Utility contractors find this model handles the pipe variety they encounter in the course of their work. Sliding bar handles make work in tight places easier and increase leverage for tightening. Fine-pitched thread on feed screw allows for a controlled, low-effort squeeze. Grease fittings at friction points make operation smoother and extend tool life. Aluminum parts reduce tool weight for easier handling. Aluminum castings withstand varied climate and soil conditions. Save money by buying just one tool to do the job of two traditional squeeze-off models.